Which startups to invest in and where to find them
Stories about how small investments in two or three guys from the garage turned into multimillion-dollar profits excite the minds of many people who want to invest in start-ups. But it's not that simple, and the way to the stars goes through thorns – 97% of startups close at the very beginning, the rest don't live to see large investments start, and only one in a hundred becomes successful. That's why a novice venture investor needs to learn how to find such a potentially successful project, be able to anticipate success and defeat, and know when it's most profitable to enter and exit the startup.
Advantages of investing in startups
Startup is a new product or technology, new opportunities, something that has not been or is on the market, but has new features.
Startups have a number of positive features that make investing in them profitable and desirable:
new powerful idea and product-a good Foundation shows that the product will be in demand and will be profitable;
team is usually young like-minded enthusiasts who have a lot of energy, high performance and are passionate about their product, and a strong team is just as important as a good product.
This is why investments in startups are yielding good results. But it is important that the project reaches the finish line, because due to the lack of investor support, most startups cease to exist.
When do they invest in startups?
The startup has several stages of development:
– idea;
– co-founder's stage;
– acceleration;
– sowing campaign;
– startup;
– early growth;
– expansion;
– launch of IPO.
During the first three stages, money is attracted from within the startup, and the first investors are the founders, friends and employees. External investments appear at the sowing stage – when the idea, product and team are already formed. This is the time of business angels who invest quickly and evaluate the team and the idea, rather than the available profit. The second possible source is grants from various funds and companies interested in developing the startup product. Investments at this stage are quite risky, as the project is still weak and has not proven itself in reality. At this point, amounts up to $50,000 – $100,000 are usually raised.
The next round of investments is needed at the stage of early growth, when the project has already reached the break-even point and starts to bring profit. Weak startups have already disappeared by that time and serious venture investors are beginning to be interested in the project. They give more money, but also check the project thoroughly – not only the product and the team itself is evaluated, but also the profit, the amount of income from one client, how often they buy the product and so on and so forth. In return, the investor offers expert assistance and support in project development. Here they operate with amounts from $100,000 to one million dollars.
Expansion stage – the project cannot be stopped anymore, its benefits are visible to the naked eye, profit grows exponentially. The project needs a large staff and needs to be scaled to continue its movement. Investments in start-ups are already attracted by the usual way – through banks and investment funds. With their help, the startup is preparing to enter the IPO.
After a successful IPO, shares of startup appear on the stock exchange and anyone can invest in it by purchasing securities.
At a certain point – at the stage of growth or expansion, a promising startup may buy a strategic investor to integrate into its core business. Facebook with Instagram, Google with YouTube, Amazon did the same with Zappos.
Where find a startup for investment?
Investors are looking for projects to invest in, projects are looking for investors who would help them to be realized. But where would they meet?
To find suitable projects for investment, the following methods and places are used:
crowdfunding platforms-sites like well-known crowdfunding sites where startups publish their ideas, project descriptions, and indicators. anyone can invest a reasonable amount based on future profits, shares, or options;
investment clubs-intermediaries between investors and start-UPS, the club maintains its project database, evaluates, conducts expertise and selects a suitable project to meet the requirements of the investor. The investor and the startup get together, discuss the terms of cooperation and sign a contract;
startup contests are popular events held by various foundations, institutions, and organizations. The advantage of such competitions is the natural selection of projects, in which the strongest survives, and the fact that the projects provide good and detailed presentations that allow the investor to assess the benefits and risks of investments;
startup databases — online platforms where startups publish data about their projects, presentations, and investors get the necessary information and can invest in any project.
About Parsers VC
Parsers VC is a provider of real-time data on transactions in the venture capital market.
We collect data about investments in startups, members, and news from venture companies and accelerators. It's no secret that many people search for such data on Crunchbase or Pitchbook. But in many funds, number of startups in portfolio and team members differs from the real ones by 50%. If they show the correct data, it is in the largest venture capital companies.
Already, Parsers VC finds 15% more deals than Crunchbase, 30% more than Pitchbook, and these are the best platforms. A comparative table of the number of startups in the portfolio of venture funds is available here.
What do we offer?
Now we provide:
– real-time investment reports. Investors and analysts can get real-time investment information. In the report, you can see which funds are investing in which categories. The activity of venture capital funds continues, which is especially important now that many funds have suspended investment amid the pandemic. A list of startups that raised money today or a week ago.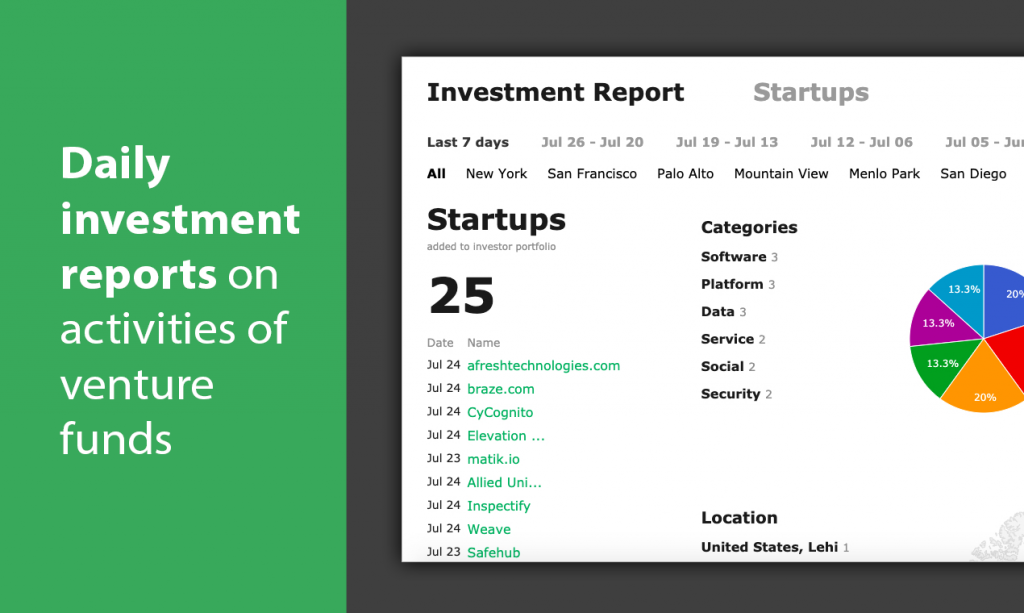 – list of venture funds, general and contact information, number of transactions, team members, activity for the last 7 days and other information. This will help to find the right funds for startups to apply to.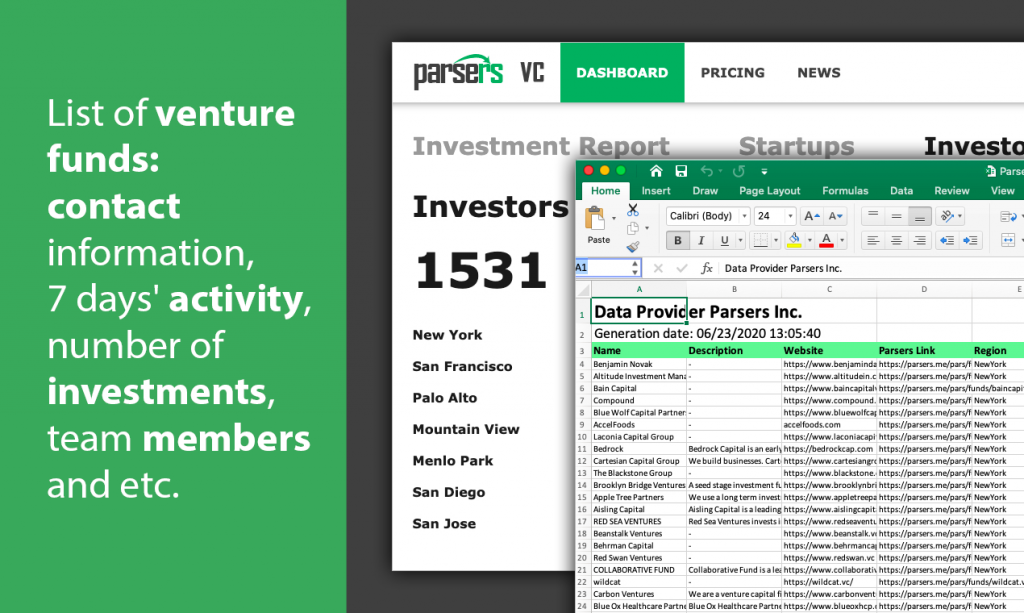 – a list of startups that have just raised money will help outsourcers and product companies offer their services on time, when the startup has just received money and is ready to grow.